When you think about summer camp, reading probably doesn't spring to mind. You probably think about canoeing, fishing, archery, swimming, campfires, and new friends.
But reading has become an integral part of camp at Wildwood. In 2017, thanks to a generous grant from the Harry L. and Helen M. Rust Charitable Foundation at Commerce Bank, we were able to build the Wildwood library and adopt the "Explore 30" Camp Reading Program–a program that encourages everyone (campers and counselors) to read for at least thirty minutes each day.
Since 2017, we've continued Explore 30, have given away a book to every camper, integrated reading into our daily activities, and cultivated a culture of reading.
The results speak for themselves: this summer, campers and counselors logged a whopping 1,456 hours of reading!
We also found that 68% of campers reported being more interested in reading, 66% reported being more skilled at reading, and 65% reported being more interested in talking to family and friends about reading in 2019.
---
Why Does Reading at Camp Matter?
During summer, students lose an average of one month of school learning, including reading. The loss is often called "summer slide."
Losing school year reading skills means that not only students spend time in class re-learning literacy skills, but some kids fall further behind each year because the summer losses add up.
At Wildwood, we want kids to go back to school feeling excited about reading and ready for the school year ahead.
By adding just two books to each campers' summer (one at camp and one to take home), campers are better equipped to stay on track with their reading.
---
Choice, Culture, and Making Reading "Cool"
So why is camp a good place for reading?
First, camp provides the perfect place for kids to explore what they might like to read.
Our library houses a wide variety of books, from Diary of a Wimpy Kid and Harry Potter to historical fiction and how-to books. Campers can compare reads with new friends, and pick out something new to read whenever they like.
In addition to providing reading choice, we work to create a pro-reading culture at Wildwood.
My favorite pro-reading activity is "firefly" reading, where campers read by the light of flashlights at night! We've also worked to implement reading incentives, including special bookmarks and small treats.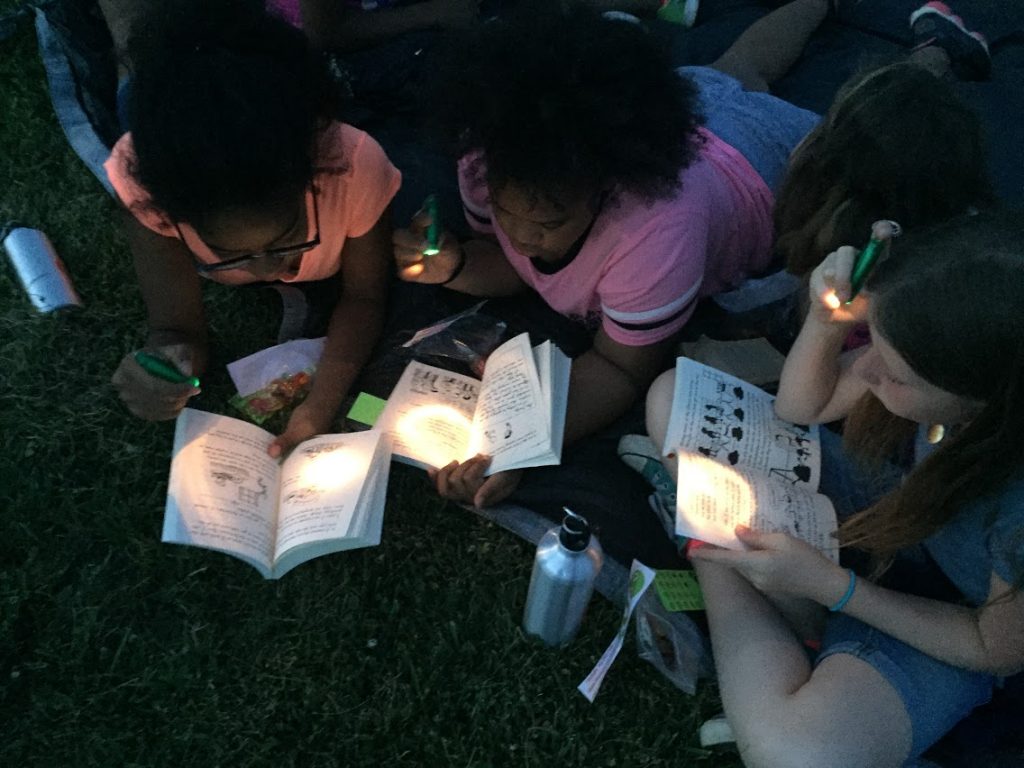 Finally, we encourage summer staff to make reading "cool" at camp. Summer staff are encouraged to read with and in front of campers.
When staff model good reading behaviors, campers are more likely to think reading is "cool" and enjoy reading.
---
What Are the Kids Reading These Days?
We don't pretend to always know what books are "in." So we sent out a survey asking campers about their favorite books. Below are a few of the answers we received: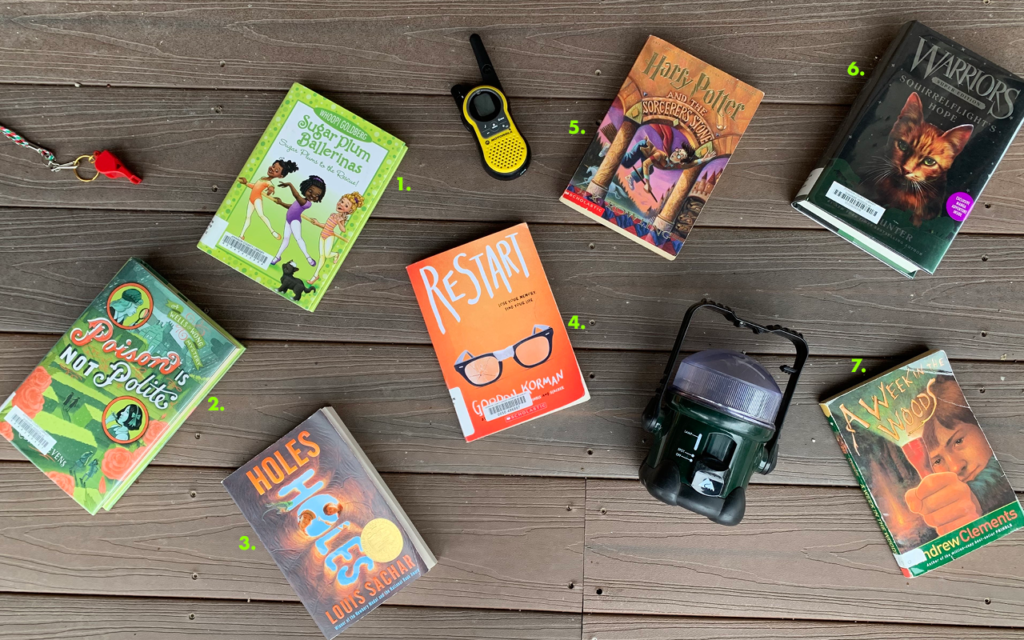 | | |
| --- | --- |
| 1. Sugar Plum Ballerinas by Whoopie Goldberg | 4. Restart by Gordon Korman |
| 2. Poison Is Not Polite by Robin Stevens | 5. Harry Potter series by J.K. Rowling |
| 3. Holes by Louis Sachar | 6. Warriors series by Erin Hunter |
| | 7. A Week In the Woods by Andrew Clements |
---
Ummm…Are You Sure That's All of The Favorites?
We know we're just scratching the surface of the books that campers really want to read. But we can't do it alone!
If your camper or 3rd to 12th grader has a favorite book they'd want to have in the Wildwood library, let us know! Fill out the survey here: https://forms.gle/mCCREWT4LwfZXkJz9
---
We're preparing our library for summer 2020, and we want to make sure Camp Wildwood has the favorites. If you want to help make our library great, please make a donation or join our monthly giving club!