We would like to invite you and your group to experience the wonders of Wildwood.
Located an hour south of Kansas City, Wildwood has served youth and adults since 1980. Our rural setting is ideal for small-group retreats, conferences, camps, seminars and business meetings. Escape the usual for a taste of fun.
The conference staff at Wildwood are dedicated to serving you. We're here to assist with the planning and organizing what your group needs–whether it be an afternoon retreat or week-long conference. Special pricing is offered to school and non-profit groups.
When you're ready to book, fill out our retreats form or give us a call! (913) 738-9067

Wildwood has 6 cabins on site, sleeping up to 128 individuals, as well as plenty of space for tent camping.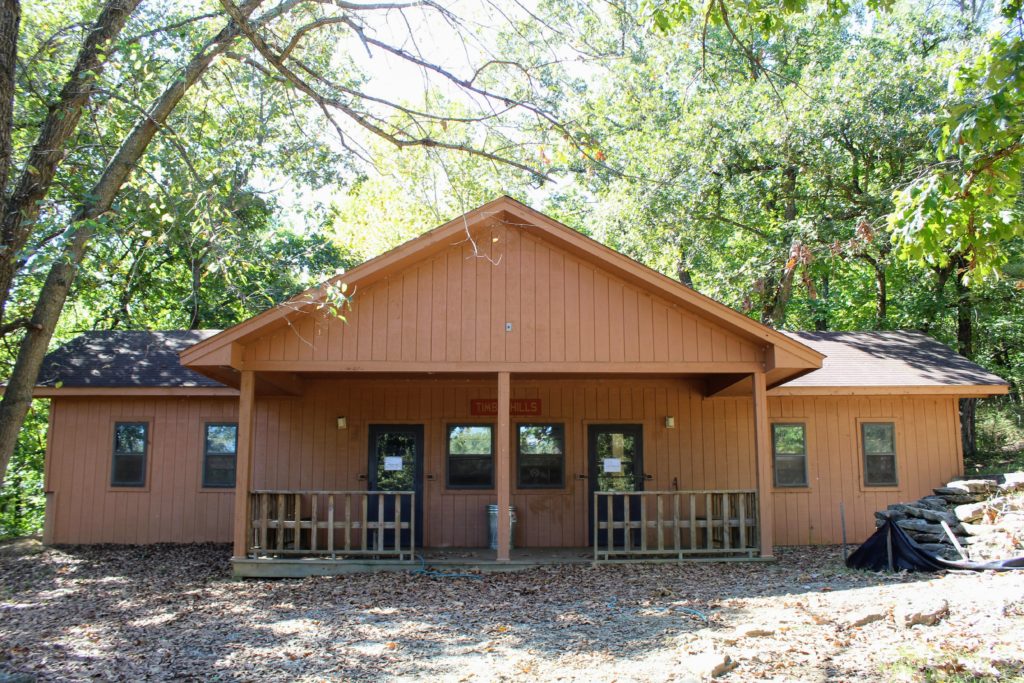 Timber Hills, Big Prairie, and Sugar Creek Cabins
Located on the south side of camp, Timber Hills, Big Prairie, and Sugar Creek offer simplicity above all. Cabins offer air conditioning, restrooms with 4 showers, electricity, and a simple front porch. Each cabin sleeps 24 individuals in bunk beds.
$360/night
Meadowview and Lakeside Cabins
Located on the north side of camp, Meadowview and Lakeside offer simplicity. Cabins offer air conditioning, restrooms with 4 showers, and electricity. Meadowview offers split sleeping areas (ideal for small, mixed-gender groups) as well as one private stall bathroom. Lakeside cabin features a small meeting space in the middle of the cabin. Meadowview sleeps 26 individuals, and Lakeside sleeps 24 individuals.
$360/night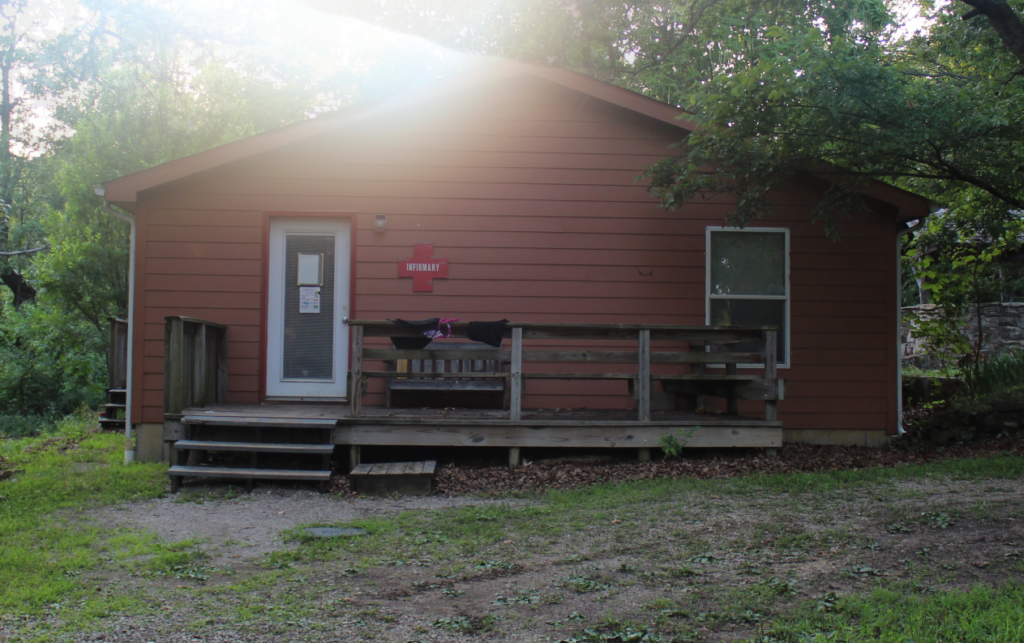 Well House
The Well House offers private sleeping accommodations. In this cabin, you will enjoy heated/air conditioned rooms, WiFi, 2 full baths, a washer/dryer, and a sitting area. A full kitchen makes the Infirmary perfect for small groups who wish to prepare their own meals. The Infirmary has a capacity of 6 individuals.
$180/night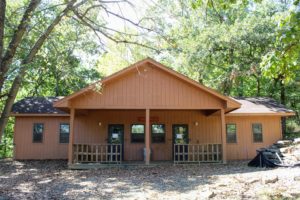 Field Camping
If you prefer to sleep under the stars, consider field camping! Users pitch their own tents on Wildwood's 150 acre property.
$7/participant/night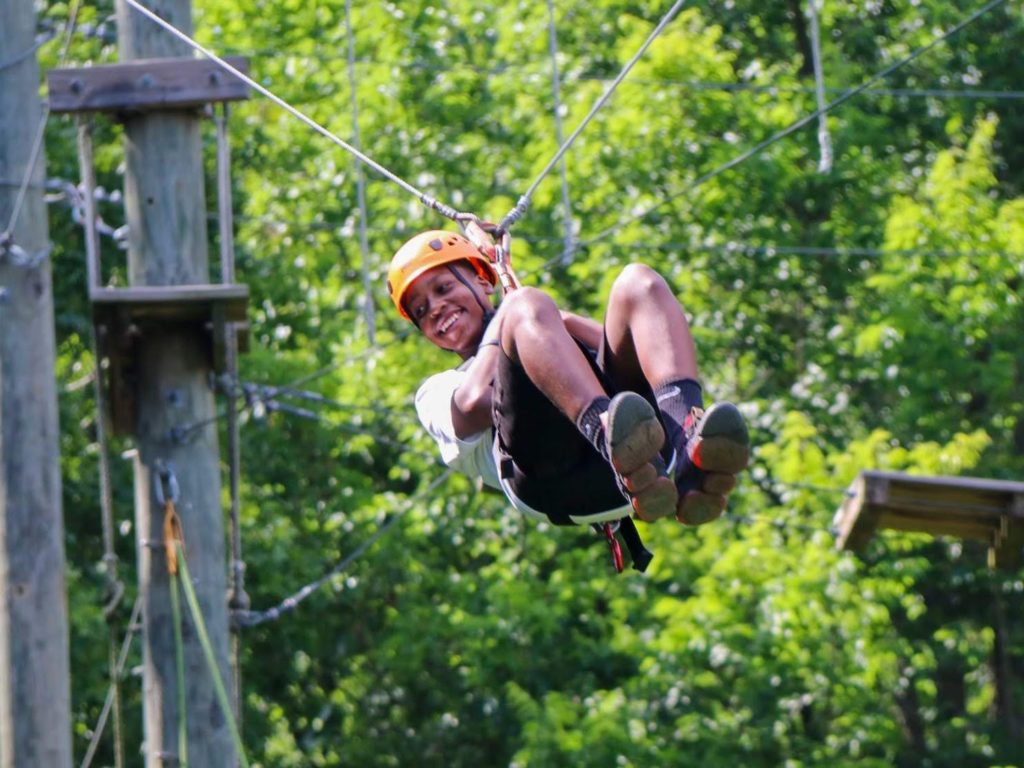 High ropes
Our high ropes course includes our
rock wall (belayed climbing), the zip-line, and the giant swing (pictured)
. Programs average $28/participant per 1.5 hours, and are staffed by our ropes-course specialists.
Rock wall — $22/participant, 1.5 hours, ages 9+
Zip line — $22/participant, 1.5 hours, ages 9+
Giant swing — $33/participant, 1.5 hours, ages 9+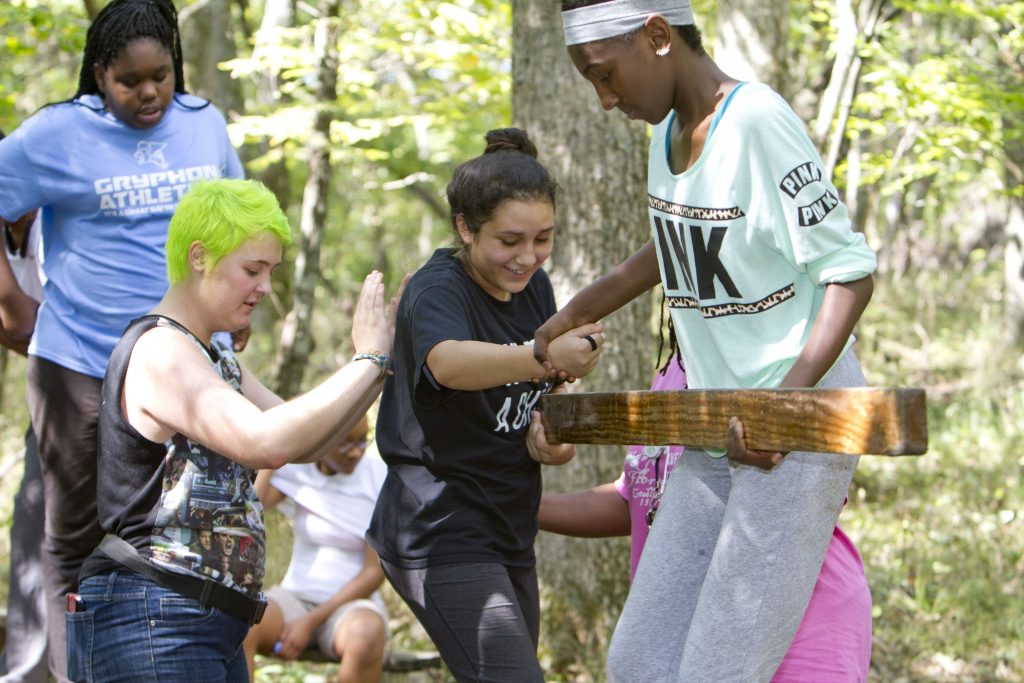 Low Ropes
Our low-ropes course (also called the Adventure Challenge Course), helps
groups of 12-15
will work through a
series of physical and mental challenges on the low ropes course
.
The program begins with team initiatives and goal setting. The group will then work through a progressive set of low ropes elements that are presented in a fun, collaborative way by our trained facilitators. This unique, hands-on experience takes place in a beautiful wooded area and will build teamwork and problem-solving confidence for your group.
Low Ropes — $28/participant, 4-6 hours, ages 9+
Water Activities
Canoeing, kayaking, and fishing are all at your fingertips at Wildwood. Wildwood has 6 canoes and 6 kayaks, as well as 10 cane poles.
Canoeing/kayaking — $15/participant, 1.5 hours, ages 9+
Fishing — $40/hour for staffed fishing, Free for unstaffed fishing, all ages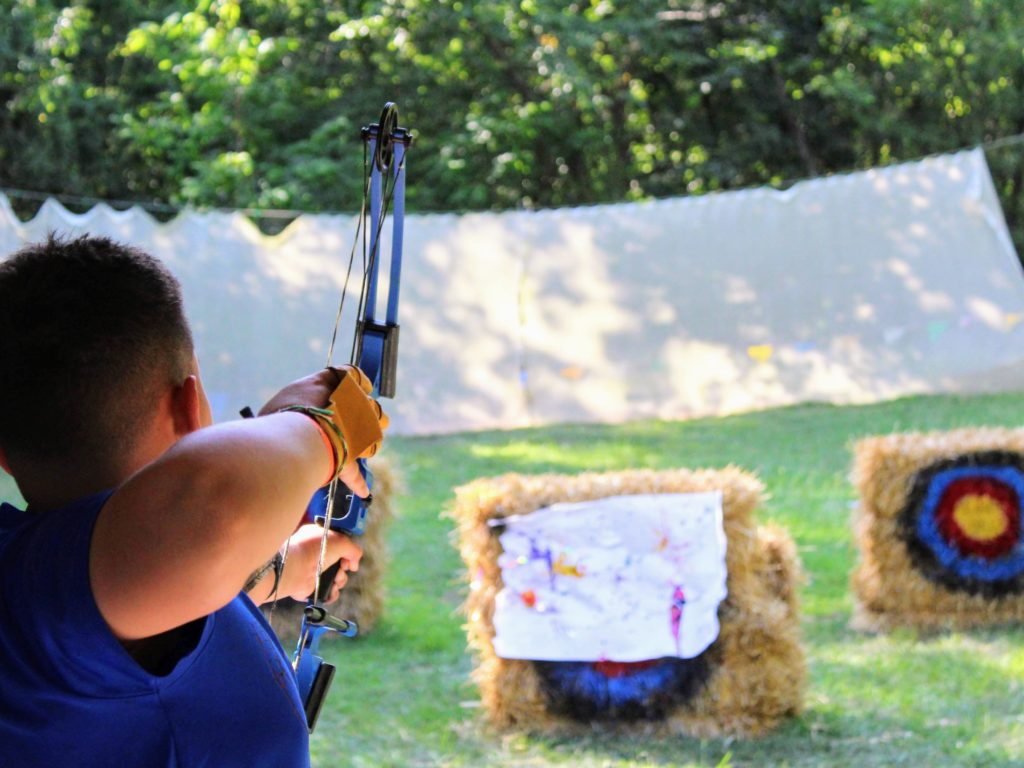 Archery
Learn to safely use a bow and arrows by demonstrating proper stance as well as aiming and shooting techniques. Practice and coaching help improve performance.
Archery — $15/participant, 1.5 hours, ages 6+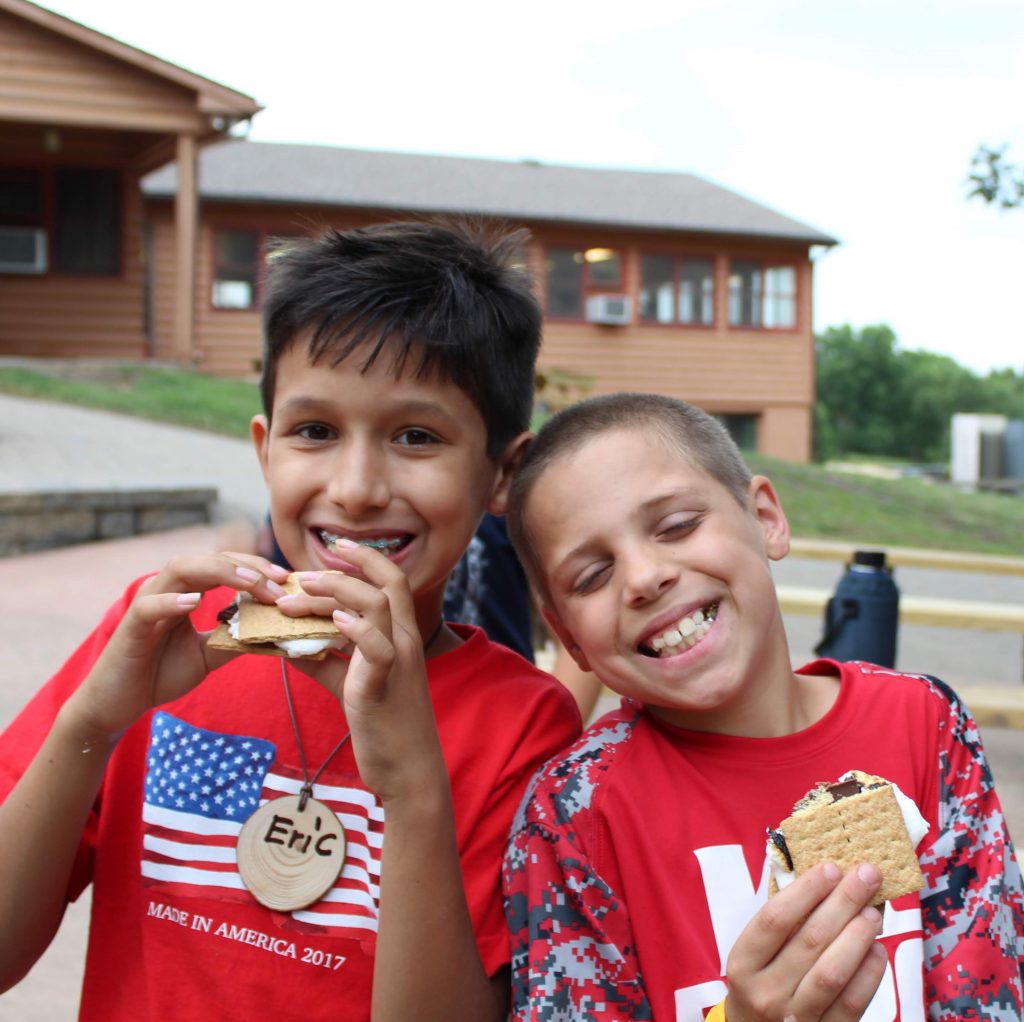 Meals
Our staff will be happy to prepare meals for your group! Our kitchen is well suited to feeding a crowd, and we love making clients happy.
| | | | |
| --- | --- | --- | --- |
| | Breakfast | Lunch | Dinner |
| Hot | $10/person | $10/person | $12/person |
| Cold | $10/person | $8/person | $12/person |

Wildwood offers both indoors and outdoors spaces for your guest speakers, round table discussions, project work, and more.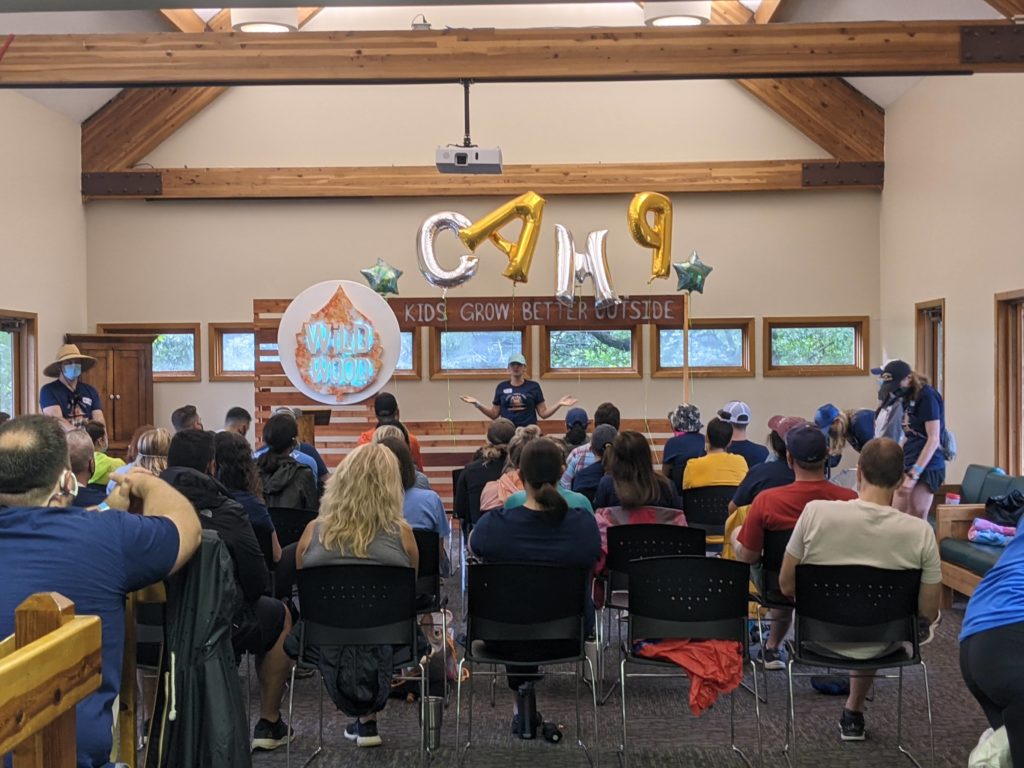 Learning Center
The Learning Center offers table capacity of 75 persons with restrooms. With a functional semi-covered back deck, nature-themed mural, and large windows, the Learning Center brings the natural beauty of Wildwood inside.
The Learning Center is a 3,200 square foot facility reserved for larger group meetings and activities. The space includes
Kitchenette and Lounge:
Upstairs: The upper floor of the Learning Center is the ideal space for larger group presentations. Easily connect your laptop, Chromecast, or . This meeting space has a capacity of 75.
Deck with Adirondack chairs: Relax in the sun or practice some sunrise yoga. The Learning Center deck provides a quiet space to escape from the indoors.
$240/day
Dining Hall
This meeting space has a capacity of 90. In addition to meals, the dining hall offers round tables with 8 chairs/table; a fireplace; a sofa; and air conditioning. WiFi and cellular access are poor in this building
$240/day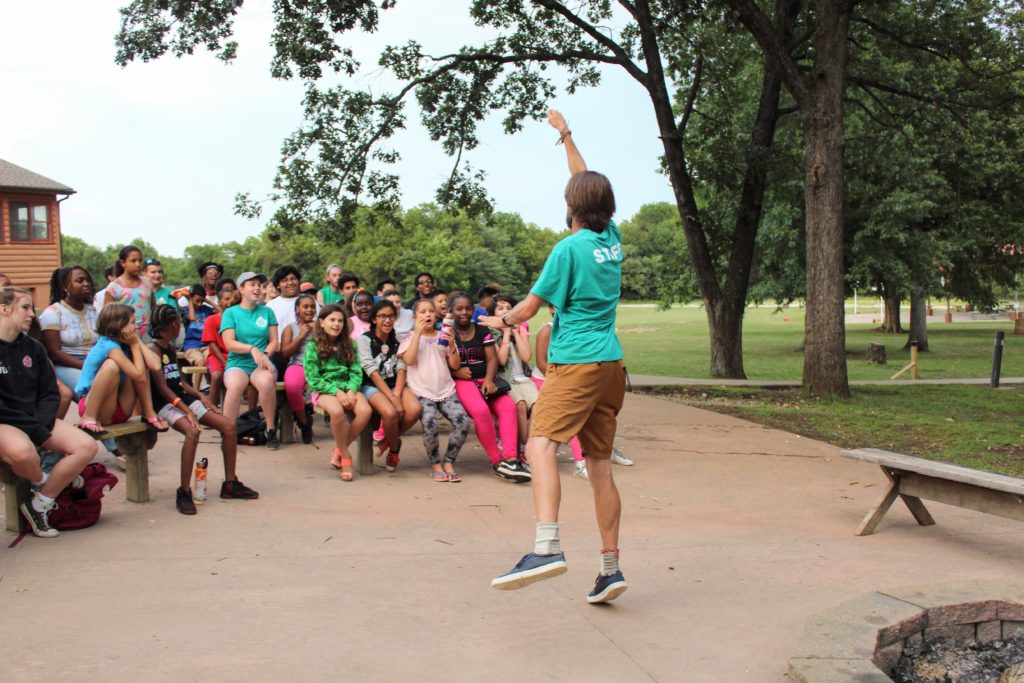 Main Campfire
This meeting space has a capacity of about 90 using the inset benches. Set as a central location of camp, this space boasts a campfire ring, a central speaker location, and the camp bell (which can be heard across camp).
Space included at no cost with rental of other space(s)
Pavilion
With seating for up to 250, this unique covered outdoor space is a great option for large gatherings, performances, or shows. The pavilion accommodates up to 20 picnic tables, and features 4 individual restrooms, an enclosed refrigerator/freezer, a pass-through window, basketball court, and various games.
$120/day