All kids benefit from active, engaging summer programs. Summer "slide" or learning loss affects all children, but it has a dramatic effect on low-income students and widens the opportunity gap for kids whose families cannot afford typical summer programs like camps, lessons or sports. They fall even further behind and experience academic decline, increased weight gain, boredom, mischief, and sometimes even criminal behavior.
Wildwood transforms summer into a season of learning, youth development, and outdoor adventure for all kids, but especially for low-income KC youth. In week-long summer sleep-away camps, our campers practice critical thinking, reading, STEM activities, and build eight youth-development outcomes: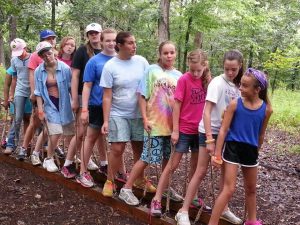 Independence                                    Interest in exploration
Teamwork                                          Feelings of connectedness
Problem-solving confidence           Family citizenship
Affinity for nature                             Friendship skills
Our evaluation data shows more than 75% of our campers experience growth in all eight areas! Our campers enjoy daily reading time, unique STEM activities, swimming, hiking, canoeing, fishing, archery, low and high ropes courses, three healthy meals a day, increased physical activity, and stress-relieving time outdoors.
You can be a part of making summer different for children in need. Help us transform lives by connecting with Wildwood.
Make a donation. $500 provides a week of summer camp for one child. Your gift of $250 will fund a weekend campout, or $100 will cover one day of a camp session. (Or, consider sending a gift off of our Amazon wishlist.)
Become a volunteer. Join us for a week or an hour. You will learn and grow as much as our campers! Email us for more information.
Share our message. Follow us on social media using the links below, read and share our newsletter and tell your friends.
Additional information for our supporters:
The Greater Kansas City Community Foundation reviews and provides in-depth information about area nonprofits, including financial, governance and programmatic details.