Wildwood is waiting for you! Engage students in a hands-on exploration of the natural world where active learning in a fun, fresh-air environment creates renewal and enthusiasm. Wildwood programs are designed to achieve positive youth-development outcomes like increased affinity for nature, interest in exploration, teamwork and problem-solving confidence for school-aged kids.
Our trained program facilitators meet or exceed national standards for qualifications, screening, practical skills and facilitation skills. We use a high ratio of staff: participants (usually 1:12 or 1:15) to provide individualized attention, coaching, and supervision for all of our programs.
Ready to book? Fill out the Field Trip Interest Form to create a custom program to meet the needs and interests of your group.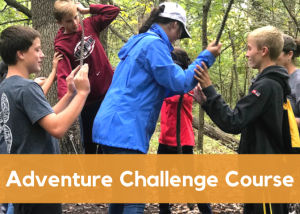 $26 per participant
Work through a series of physical and mental challenges on the low ropes course to build teamwork and problem-solving confidence for your group.
$34 per participant
Experience the rock wall, archery and canoeing. This day is designed for the ultimate outdoor adventure.
$44 per participant
Combine the adventure challenge course and the giant swing to create the Total Wildwood Challenge.
Check out our program guide to see our other options!
Next Steps:
What Teachers Told Us
The greatest growth I noticed in our students at Wildwood was building relationships: Students learning to work together helps them to work together in the classroom and ultimately they learn more.
–5th grade teacher, 2018

They loved being outdoors and seeing the connection between what they are learning in science relate to ecology and nature.
–7th grade teacher, 2018

Our leadership class was able to focus in on some of the finer aspects of our curriculum, particularly problem-solving, cooperation, risk-taking, and leading over bossing around.
–9th grade teacher, 2018

The experience brought the children closer together.
–5th grade teacher, 2018