Wildwood is waiting for you! Engage students in a hands-on exploration of the natural world where active learning in a fun, fresh-air environment creates renewal and enthusiasm. Wildwood programs are designed to achieve positive youth-development outcomes like increased affinity for nature, interest in exploration, teamwork and problem-solving confidence for school-aged kids.
Our trained program facilitators meet or exceed national standards for qualifications, screening, practical skills and facilitation skills. We use a high ratio of staff: participants (up to 1:15) to provide individualized attention, coaching, and supervision for all of our programs.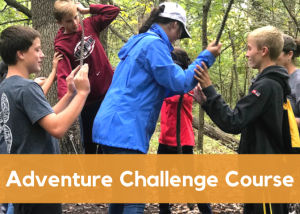 $28 per participant
Work through a series of physical and mental challenges on the low ropes course to build teamwork and problem-solving confidence for your group.
$34 per participant
Experience the giant swing, Earthwalk, fishing and canoeing. This day is designed for the ultimate outdoor adventure.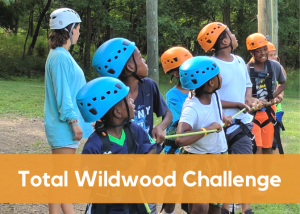 $44 per participant
Combine the adventure challenge course and the rock wall to create the Total Wildwood Challenge.
$25 per participant
Use Wildwood's natural surroundings as a classroom for environmental studies in aquatic and forest ecology, or an engineering focus on renewable energy and bio-inspired designs.  The day is divided between science classes and a canoeing session.
$25 per participant
**New Program** Check out our new Maker Space for camper engineering, art and bio-inspired design projects. In this space, campers imagine, experiment, and invent with tools and supplies at their disposal. 
$10 – 33 per participant
Create a field trip that suits your class' or group's needs. From fishing to canoeing to ziplining, we can help you create a customized day at Wildwood.
---
Ready to book? We can't wait to see you! Please fill out the Field Trip Interest Form and check out the next steps:
---
What Teachers Told Us