This year, Wildwood has been lucky to welcome two excellent Americorps VISTA members, Shannon and Katie! Shannon and Katie will be with Wildwood for the next 12 months, increasing Wildwood's fundraising, volunteering, programming, and camp recruitment and retention capacity.
More specifically, Shannon will be building new camp programs, leveling up our staff training, and planning new ways to recruit and retain camp staff and campers. Katie will be re-building Wildwood's volunteer program, supporting individual fundraising through community events, and crafting new PR strategy for Wildwood.
They are both making a huge difference at Wildwood already, and we are so excited to have them on board! Welcome to the team!
(You can send a digital welcome to Shannon and Katie here: https://www.kudoboard.com/boards/fMYnTOzu)
---
Get to Know Shannon
As a fellow coworker described it, Wildwood is like coming home. My name is Shannon Janssen and I am the new programs and outreach VISTA for Wildwood. Arriving at this position and where I sit today is one of the most exciting journeys I think I have ever embarked on in my life.
Genuinely, working at Wildwood has been the life upgrade that I didn't know was even in the cards for me. I have bounced between a few jobs in my life and while all of them served a purpose and served said purpose well, Wildwood truly makes me feel like I am in the right place.
I have worked at a handful of camps in different capacities, ranging from archery instructor to shed sweeper/canoe cleaner-outer and so much more in between. In years past I attended several overnight camps and even came to Wildwood with my sixth grade class for a few nights. I knew though that I needed to try a new title out for size, Overnight Camp Counselor. So for the past summer I have been the mother duckling to groups of kids at Wildwood's summer camp. Working in that position only further confirmed my idea that I needed to work at a camp.
Getting this position through Americorps as the Programming and Outreach VISTA was a dream come true! I have a passion for planning and organizing that was itching to be used. Being able to combine it with camp programming and outreach still feels unreal to me. I have so many ideas and am looking forward to not only getting some of these ideas to happen but also working with such an amazing team of coworkers to really collaborate on our vision of camp.
Outside of camp I like to bullet journal, cook (mostly eat!), and do artsy things like watercoloring. Inside of camp I am the go to person for outdoor cooking, canoe games, and archery competitions. I am not-so-patiently waiting to see how the things I bring to the table can contribute to an amazing camp experience for some kids. I love to create programs that are designed to add an element of "I want to do this again!" The most powerful camp experiences I have personally had were not necessarily the activity but more so the execution. My biggest dream is that I can share my knowledge and experience with other camp professionals and then in turn learn from theirs. I think this position and Wildwood's culture is the perfect launching off pad to do exactly that.
I am beyond excited to start this year-long journey here! I cannot wait to bring the joy I get from camp back into the kid's experiences at Wildwood.
---
Get to Know Katie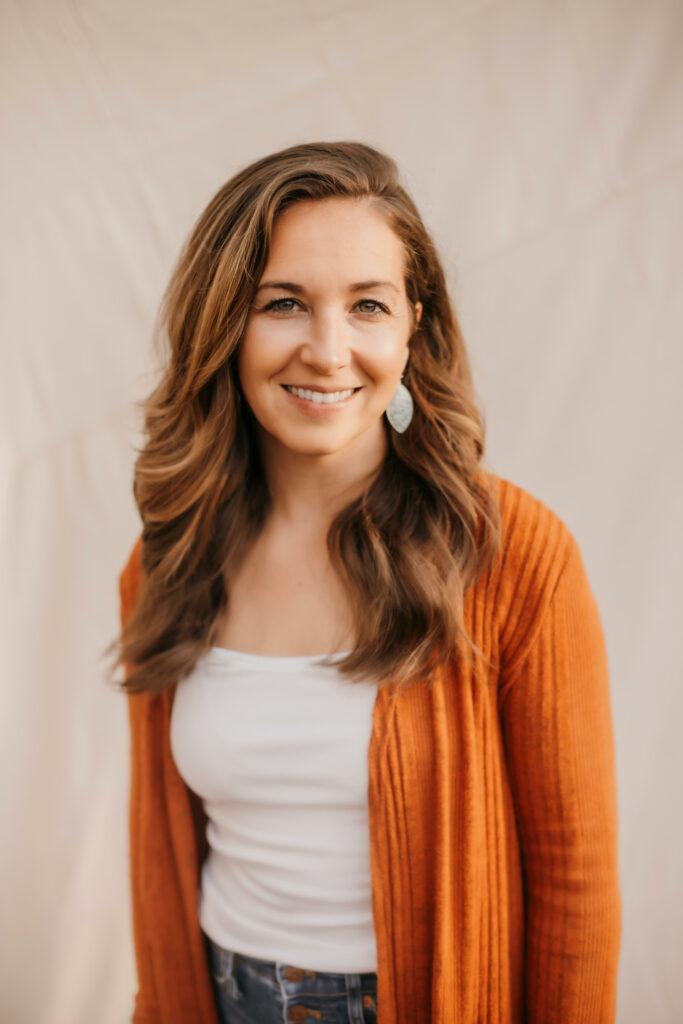 Hello! My name is Katie Hadel, and I am joining the Wildwood team in 2022 serving as VISTA Community Engagement Manager.
I graduated from Ottawa University with a bachelors in Human Services and have a passion to serve youth in our community.
For 5 years I offered in-home nature based preschool and I also enjoy hosting outdoor art groups at my home and at my son's school. I have always lived in Kansas and currently live in the country with my husband, son and some chickens.
In my free time I enjoy finding local nature trails to explore, fishing, and gardening. I am thrilled to be with Wildwood this year!