Wildwood loves summer reading. Research says that kids who read during the summer retain more school-year learning and enjoy reading more.
At camp, kids read everywhere–on rules for fishing, in directions for sunblock and insect repellant, on signs in the cabins.
Reading at camp is more fun and engaging when we add a sense of community to our reading program. That's why we are so excited to introduce a common read this year, The Wild Robot written by Peter Brown.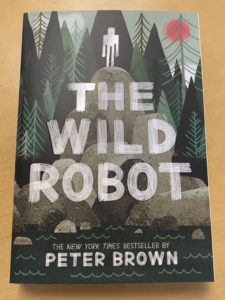 ---
What Is The Wild Robot?
Our executive director fell in love with Roz, the wild robot, when she read the book to her own family and wanted to share it with all of Wildwood's campers.
The Wild Robot follows the journey of Roz, a robot who crash lands on an island and learns to survive in the wild. Roz learns to "fit in" with the animals, survives weather events (like a big storm), and finds her identity. (Isn't this what we all do in the wild?)
The author writes in short, action filled sentences and succinct chapters. I was immediately hooked by the action, wanting to read more, spurred on by the rapid completion of each chapter.
We also love with the book's illustrations. Not only do these black and white images help hold the reader's attention, but provide visual clues for less advanced readers.
In short, we chose The Wild Robot because it's fun for campers of all ages, action-packed, and has themes that unite everyone at camp–belonging, identity, and experiential learning.
---
What Is A Common Read?
A common read is a book that everyone reads–campers of all ages, staff, and CiTs. During campfires, staff take turns reading parts of The Wild Robot aloud to campers. This way, no one is left out because of reading ability, and everyone gets to enjoy the book.
Cabin leaders help guide campers through the book too, reading aloud at lights out, asking questions, and role-modeling a good attitude about reading in general.
We know from past evaluations that 75-85% of Wildwood campers leave camp with improved attitudes about reading. We attribute this largely to the Explore 30 reading program–an American Camp Association initiative that challenges camps to have campers read for at least 30 minutes each day. Our goal this year is to reach the 15% of campers who aren't engaged with reading at camp. We hope that a love of reading reaches all of our campers.
---
Should My Camper Read The Book Before Camp?
As tempting as it might be, please help us keep the surprise of The Wild Robot!
Your camper will come home with a copy of the book, so you can read along with them when they get home from camp.
And, if you love Roz like we do, be sure to check out the sequel–The Wild Robot Escapes!