Potential camp staff have a lot to consider when taking a job at Wildwood. Whether the candidate likes kids, where camp is located, how much the job pays, and skills to be gained rank among the chief concerns.
In a seasonal job, we know that it's also important for candidates to be able to leverage their experience to snag a new job or internship.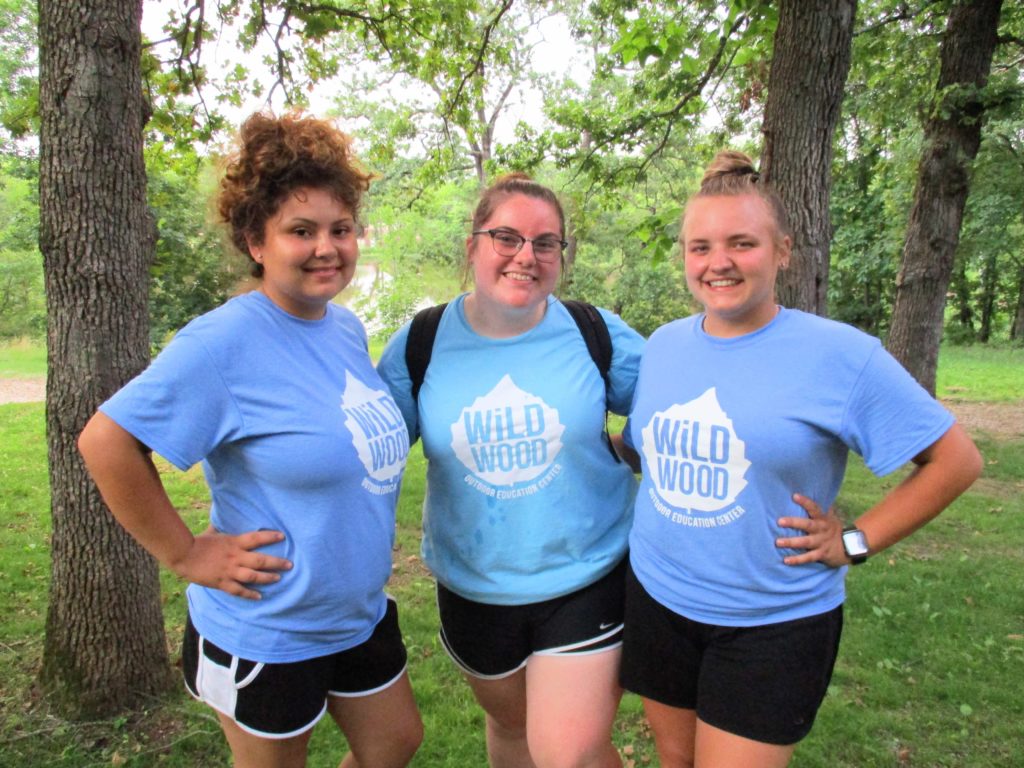 We want to make sure the experience is meaningful, fun, and useful as staff move into their future careers. To that end, we've included a few tips below for Wildwood camp staff (past, present, and future!) to add to their resume.
---
What Do I Write on My Resume?
First, let's start with some resume basics.
If you've never written a resume before, we recommend starting with a template. Microsoft Word and Google Doc Templates offer a variety to start from. Canva offers a variety of templates for more creative layouts.
There are a variety of resume formats, applicable to a variety of jobs. Although it's tedious, it's best practice to tailor your resume to the job you're applying for.
If you're applying for a job in education for example, highlight all of your teaching or mentoring experiences with campers. If you're applying for a job in the arts, highlight how you planned age-appropriate varieties of tie-dye or other art activities. (Insider tip: highlight important words used in the job description and integrate those words into your resume and cover letter.)
Use active verbs describing your job duties. Active verbs indicate the subject is directly doing things (i.e. Mason supervised). Passive verbs on the other hand, include words like am, is, are, was, were, has, and has been. So instead of writing "Was tasked with planning camper activities," you might write "Planned camper activities."
---
Wildwood-Specific Language for Your Resume
First, let's talk about job title. In most cases, listing your job title at Wildwood as "Camp Staff" isn't ideal because it lacks specificity. Similarly, Camp Counselor has the potential to cause confusion. So how do you list your job at Wildwood? Here are a few titles we endorse as accurate to the job:
Youth Outdoor Leader
Youth Specialist
Youth Recreation Specialist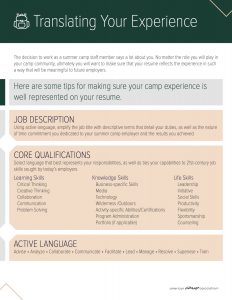 Next, let's discuss job duties. The American Camp Association (ACA) has provided a list of active verbs to include in your job duties section. They highlight advise, analyze, communicate, collaborate, facilitate, lead, manage, resolve, supervise, and train.
You may choose to highlight different duties depending on the position you are applying for. A few we've pulled for you include:
Led youth entering grades 1-6 (day camp) or 3-8 (overnight camp) in engaging outdoor activities and STEM learning
Supervised and mentored groups of up to 12 Kansas City-area youth entering grades _-_ for week-long camps
Used Trauma-Informed Carer practices to resolve conflict between youth attending overnight camps
Facilitated outdoor activities for youth entering grades _-_
Collaborated with team members to design and implement programs for social-emotional learning and environmental literacy.
Finally, a few relevant skills or certifications may include:
Trained in trauma-informed care (especially relevant for mental health, teaching/education, social work, and similar positions)
First Aid certified (especially relevant for health care, mental health care, teaching/education, social work, recreation, and similar positions)
Lifeguard certified
High-ropes trained
We suggest that you add the year you were trained or certified in the skill when relevant.
---
Getting What You Want Out of A Summer Camp Job at Wildwood
If there's a specific skill or experience you'd like to acquire working at Wildwood, please ask! Many internship requirements can be fulfilled at camp. Did you know we have a marketing department? And a business office?
We want the experience to be meaningful for you, and if we can offer something that will add value to your summer, we're happy to help you achieve your goals and understand how a summer at Wildwood moves you forward on your career path.
Please get in touch (or let us know early on!) if you need a letter of recommendation. We're thrilled to help successful summer camp staff snag that next job.