Making friends is a huge feature of the camp experience. It's easy to bond in five short days. Campers eat, sleep, and try new activities together. They participate in unique traditions and are encouraged to be their most authentic selves.
As much as we'd like to believe that the most salient parts of camp are the carefully thought out, academically rich activities we construct, it's the new friends with whom campers complete these activities that they remember most.
So when a pandemic came knocking on our door, we decided to do something to keep friendships bright. Specifically, we decided to create a friendship bracelet kit designed to increase campers' social-emotional learning, and feelings of connection.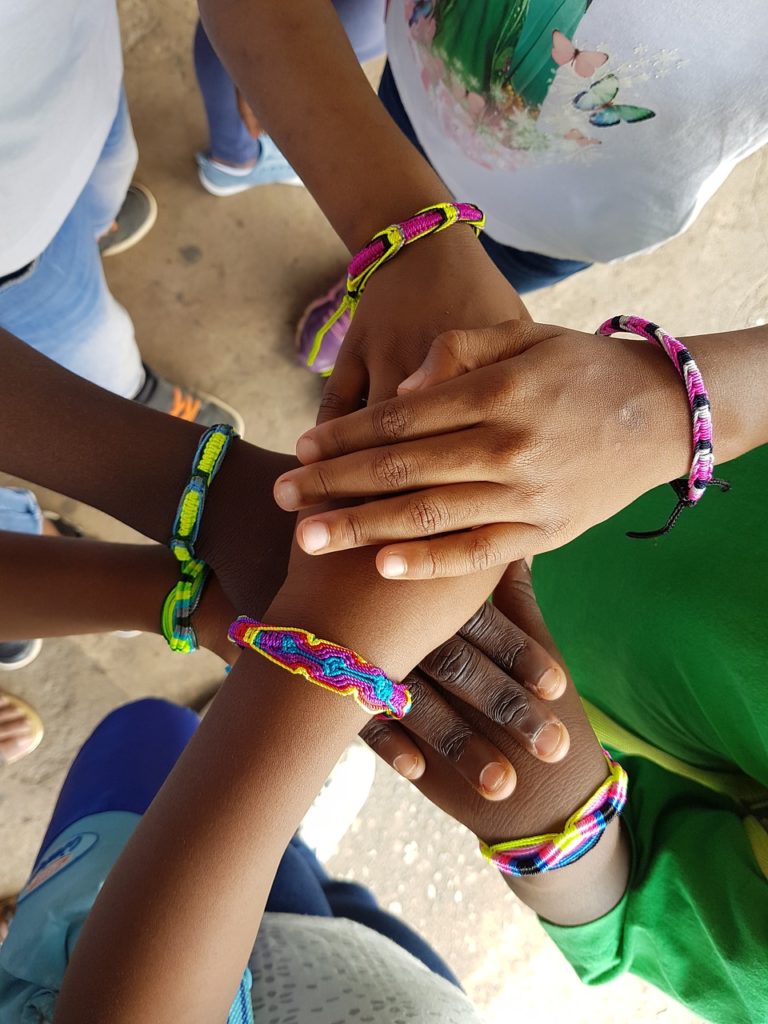 ---
What Is Social-Emotional Learning and Why Use It?
Social-Emotional Learning (SEL) is at the core of Wildwood's programs. Wildwood campers have implicitly learned how to understand and manage emotions, feel and show empathy for others, establish and maintain positive relationships, and make responsible decisions.
After months of lockdown, added stress of remote learning, and time away from peers, Kansas City kids will need SEL more than ever before. It's hard for kids to learn and grow when their emotional wellbeing is at risk.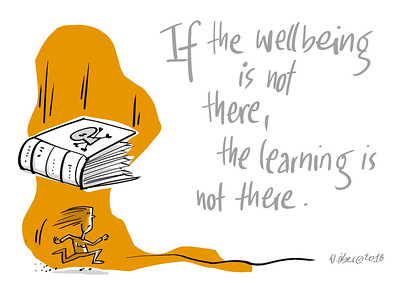 ---
How Does A Friendship Bracelet Kit Encourage Social-Emotional Learning?
The Wildwood team specially designed our friendship bracelet kit to encourage growth in two SEL core competencies–relationship skills and self-awareness.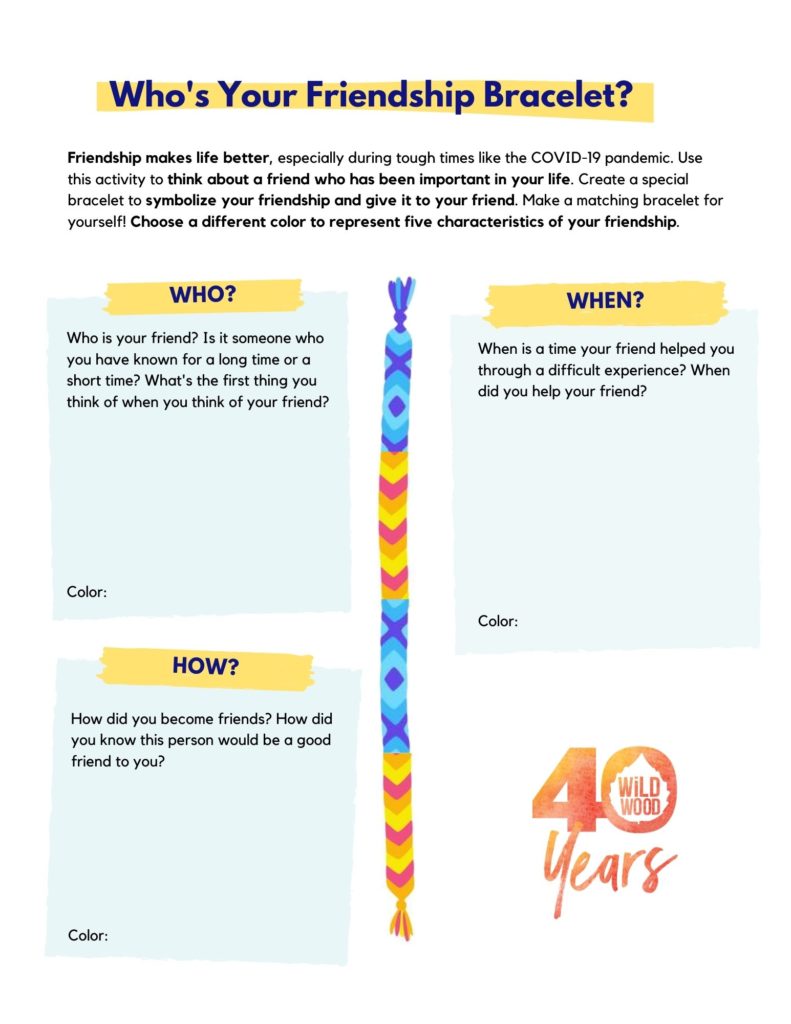 To achieve this growth, each kit comes packed with instructions, enough embroidery thread for two matching bracelets (one for the camper and one for his or her friend), and a worksheet for campers to reflect on their friendship.
We knew that reflecting on a positive relationship would help kids feel connected to others and identifying elements of a good friendship would help them know what to look for in future friendships.
To see how it worked, I tried the activity myself. I filled out the worksheet about my friend, Lerie. I wrote about who she is, where I met her, and what I think of when I think about her. Then, I jotted down a time we helped each other out, how we became friends, why it's important for me to keep in touch with her.
Finally, I assigned each color of thread I had to a different set of answers. When I created the bracelet, each color signified something different about my friendship with Lerie.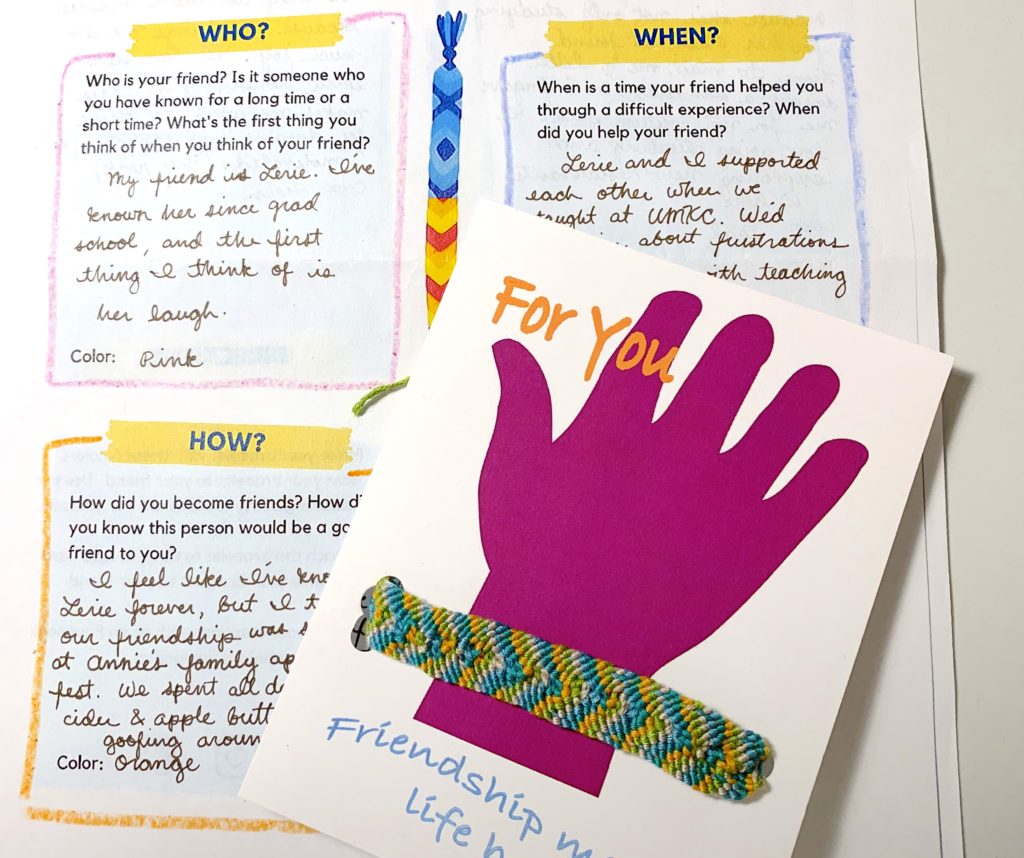 Although I aged out of camperhood 15 years ago, the activity was meaningful to me.
My friend now lives in New York. I see her once or twice a year if I'm lucky. Writing about our friendship and taking time to create something unique for her made me feel more connected to Lerie.
It gave me a specific way to keep in touch with her.
If it was this meaningful for me, I know it will be meaningful to our campers.
---
Ready to Get Involved?
Whether you have fond memories of making and receiving a friendship bracelets or are new to the craft, you can help campers learn and grow socially and emotionally.
By becoming a monthly donor, you ensure that campers get to make new friends and keep in touch with old ones for years to come.