Six times this summer I woke up early to meet the big yellow bus in local grocery store parking lot to load up campers for their journey to Wildwood.
Parents and their campers turn in their final paperwork with camp staff, load duffel bags and pillows into the rear door, give each other big hugs before they spend a week away from each other.
I love seeing the excitement of kids and parents, the slight smell of diesel, the squeak as the bus comes to a stop–it all reminds me of my week at Wildwood as a sixth grader. The excitement of going somewhere far away, on my own.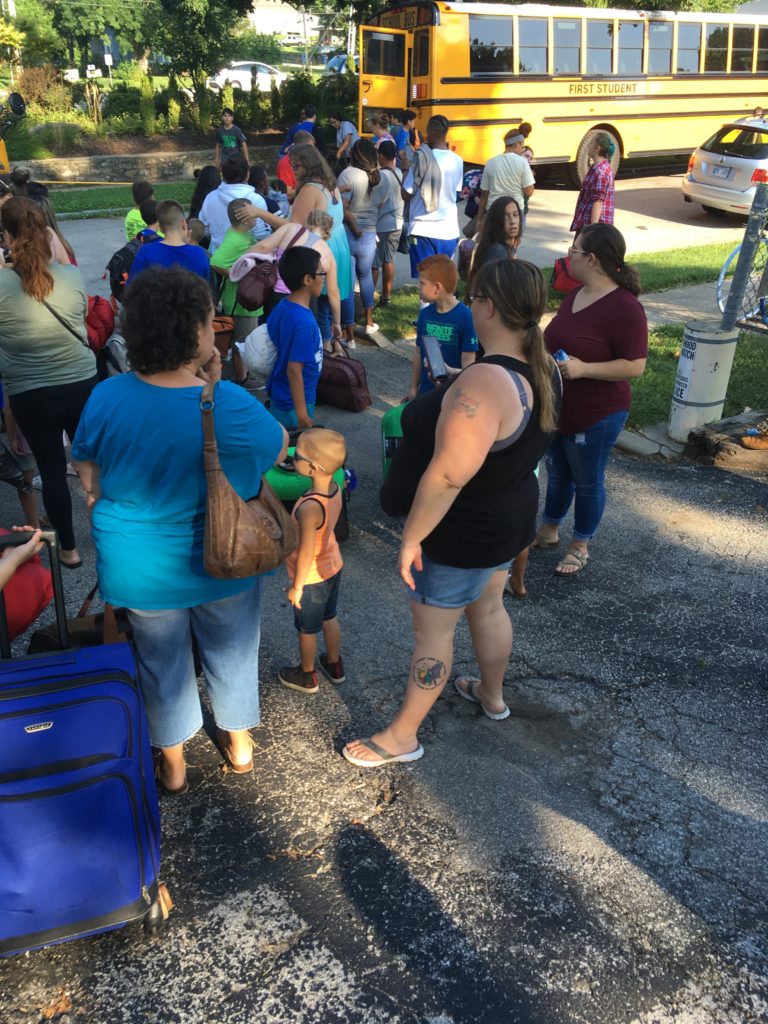 ---
Why the big yellow bus matters
For many families, the big yellow bus makes camp possible.
Wildwood is located about one hour south of many of our Kansas City neighborhoods. Caregivers may not have the time off work or a vehicle they trust for that length of trip. So providing transportation to and from camp is one important way Wildwood reduces barriers to summer learning and adventure for Kansas City kids.
Wildwood has always provided summer camp bus transportation during some weeks for specific partners like Boys and Girls Club or Rosedale Development Association. But in 2018 we took the leap to add transportation for every week of camp from four centrally located spots. This opened camp up to kids from all over the metro who needed a ride to enjoy all the learning and growing Wildwood promises.
---
How the big yellow bus changes things
Here's the other great change the bus makes: kids make new friends before they even enter the camp gate! The bus ride to camp is an extension of our program, and kids arrive at camp already knowing their seat mates, nearby campers, and the counselors who ride the bus with them. On the bus they learn camp songs and get up-to-date on traditions and camp culture from more experienced campers.
In other words, more buses = more campers from more neighborhoods = more awesome Wildwood experiences.
---
The Bottom Line
It costs about $2,000 per week to provide bus transportation to and from Wildwood.
This change required funding, graciously provided by our donors including the Hall Family Foundation in 2018 and the Oppenstein Brothers Foundation at Commerce Bank in 2019, 2020 and 2021.
The bus and the resulting Wildwood friendships are all made possible because our donors understand the benefits of Wildwood for all of Kansas City's kids. They understand how our neighborhoods come together to create a diverse camp community, open to everyone.