Connecting Kansas City kids with nature, adventure, and friendship is what we do best at Wildwood. From our summer overnight camps to our school field trips, Wildwood is a cause to get excited about and a mission you can see in action. We believe in the power of camp to enrich kids' lives, and we remove barriers to summer camp for KC-area families. 
Wildwood Outdoor Education Center is seeking seasonal Activity Leaders to help further our mission of summer camp for the community. This position focuses on developing, implementing, and evaluating the adventure activities at camp: 
Deliver engaging adventure activities to campers in order to meet the intended participant outcomes;
Maintain high standards of health and safety in adventure and all other activities for participants, staff and observers; 
Assist in the management and care of the physical facilities and equipment;
Ensures that camp safety practices and procedures are being followed;
Be a role model to participants, staff, and observers in their attitude and behavior;
and building strong connections with campers and staff.
The position requires working on-site at our camp in La Cygne, KS during spring and/or Fall months (April, May, August, September, October). Work hours may require evenings and weekend hours.
Responsibilities will include:
Adventure Activities Implementation
Evaluate program abilities of participants and staff. 

Deliver progressive program activities. 

Evaluate the success of the programs and the development of the participants' abilities and skills. 

Expand the camp's  programming through new activities, processing and debriefing tools, and lesson plans.
Activities Health & Safety
Provide guidelines for proper fitting and use of adventure equipment.

Review all rules and regulations with participants and helpers before starting an activity.

Train all helpers on how to help at each adventure activity.

Be alert to participant, observer and staff needs and assist them with any issues that arise.

Follow all protocols to mitigate further risks with Covid-19.
Facilities and Equipment Management
Conduct daily checks of the area and equipment for safety, cleanliness, and good repair.

Maintain the program equipment and elements.

Clean program area daily keeping it free of hazards and debris.

Report repairs needed promptly to the Program Manager.
This position requires the ability to work with youth in a positive manner. A successful candidate will have some experience participating in adventure activities, and leading activities for youth.  Excellent communication skills are essential. Candidates should have the ability to work independently, strive for excellence, and possess a demonstrated passion for diversity, equity, inclusion and belonging.
We offer a starting daily salary at $100/day for 5-6 days a week, as well as accommodations during employment. 
To be considered, please submit an application at the link to the right. Please direct questions to Amanda Hall, Program Manager at amanda@wildwoodctr.org
No calls, please.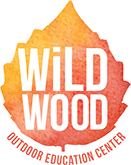 April-May, August-October
7095 West 399th Street, LaCygne, KS, 66040